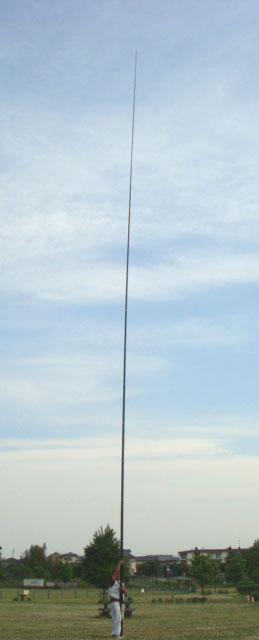 Hi,
althought I wrote about the telescoping fiberglass poles in preview articles (6 parts) it seems to be never ending story...
As I promised last time I am continue looking for another suppliers to get another source for Fiberglass masts or poles to use it as support of receiving Delta or inverted L or another types of 160m antennas for DXing.
If You will visit the web of JH1GVY then You will find there very nice table of suppliers for poles usable for our ham radio hobby and 160m antennas.
Pole information for JH1GVY antenna 
Weight
(kg)

Ahead remark/purchase communicating

When are only white and the substance, below wind resistant fast 35m/s
Five nine service
Tel: 03-3733-3295

184Euro/exemption from taxation
265Euro/Boat

Spider beam
Wall thickness 1mm - 2mm

HP where information of various poles is published

Coming and others coming and others pole

Stainless steel winding pipe ones we want the pole
Central pipe diameter 29mm, [mori] industrial

㈱

make
Foam/home center
 

JH1GVY comment:

> PG ANT100: Lightness is charm.

> W-GR-1000H: The waist was stronger than PG ANT100, most became popular? .

> GP-1000A: For standing antenna? .

> MF180001: 2006, the strongest in amateur radio history? Expansion and contraction fiberglass pole. 

We did not talked untill now about the fiberglass poles named

W-GR-1000H / W-GR-1800H

from World-Wide (world wide)

Toshio typical Kobayashi

Sano Cho with respect to 370-0857 Gunma prefecture Takasaki city 409-1

TEL: 027-327-7776 (month ~ gold 09:00 ~19: 00)

FAX: 027-327-8874 (on occasion)

E-Mail:

tracer@mail.wind.ne.jp

Type name

W-GR-1000H
W-GR-1800H
Total length

When extending: 10.0m
When receiving: 1.27m
(From top and bottom cap edge)
When extending: 18.2m
When receiving: 1.25m
(From top and bottom cap edge)
Major diameter

Largest diameter: 48.0mm (it is low the section)
The smallest diameter: 11.0mm (point)
Largest diameter: 86.4mm (it is low the section)
The smallest diameter: 12.4mm (point)
Weight

2.2Kg
6.8Kg
The number of continuation

9 step connections
17 step connections
Use

Wire antenna construction and small-sized V/UHF beam ANT temporary veranda ANT etc in addition, you can use variously!
Wire antenna construction in addition, you can use variously!
Feature

The private case (selling separately) it is
Bottom has become the aluminum material
All parameters are visible in the preview table so comment is not needed.
about which I talked in an article Telescoping Fiberglass Mast - part I. There You can find that the pole from Spidebeam 18m tall has 73/4mm of diammeter only.
OK, the question is what it will do in the wind and which differencies are in the materials in these two cases as Spiderbeam talking about "specially reinforced multilayer winding"
Well according to the technical parameters of the W-GR-1000H/1800H it comes to be one of the favourable pole for my antennas suports on 160m.
Any comments or experiences with that pole?
MNI 73, Petr OK1RP